Ok, what could be better!!! Knitting while watching a hockey game and consuming beer!!! Yes, yes, yes. I was in heaven. Needed to relax a bit. Saturday consisted of LOTS of errands including 2 home improvement stores, grocery store, post office, paint store, mom's, sisters to pick up a nephew, pool supply store, then home~~where I found our contractor friend moving the electrical outlets in the kitchen. (We're having granite installed soon.), nephew #2 was dropped off, delivered nephew #1 to baseball practice, took nephew to home improvement store #2 then back to baseball field. Whew!!! It was a great day. I love those boys. Didn't get to knit one little stitch until about 6pm!!
Here's progress on Sonnet:
This I worked on while watching the Kings Rule over Columbus. 8-2. That's what I call a hockey game!!!
While I'm at it, since I joined the Purling Pups Webring, here's a pic of my pups!!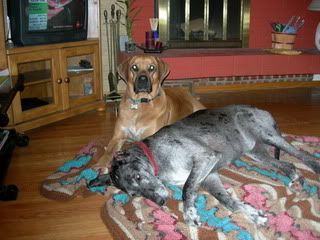 Aren't they the sweetest things. Both rescues from Gentle Giants. I have a link on the right. Yes they're big, a Great Dane and a Mastiff (think she's a mix) Sorry about her scarey eyes. But she's very happy the pool is refilled again~~she thinks it's her very own bathtub. Have a happy dappy day.