Explanation: I work at a university and Monday begins the Spring semester. It's so nice to be able to work (blog) with no interruptions, very few phone calls and no profs around. Finally was able to update the HUGE pics in my previous post, fix the broken links AND get the good pics up.
The BF and I got to go on date last night, HOCKEY night. Kings lost again, but gotta love those Kings. Forgive me, I'm kinda boring this morning. Late night (wink wink).
Here's my latest yarn purchase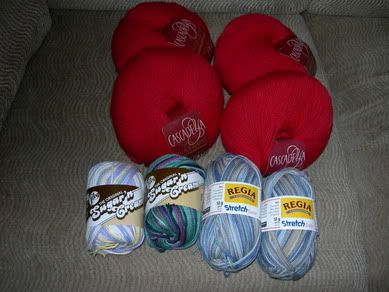 The Cascade 220 is for
Tempting II by Jenna Adorno
and the pattern is available at
Knitty
. It's so soft and beautiful, something I've never worked with before. Gotta finish Sonnet first~~need the needles and it's a great incentive to finish Sonnet!!! The Regia Stretch is for
Grumperina's
Jaywalkers
for which I just ordered the needles at Joanns. My LYS doesn't carry circular needles in size 1, neither does Michaels. Found them and also got 40% off one item. Love a deal. The Sugar and Cream is for, what else but dish cloths!!
Got another pair of socks on the needles. These are for the
Count your Socks
don't have a pic right now, but they are my own pattern, using Cascade Fixation of course. So we'll see how they turn out. Guess you could say this is my first foray into desiging! Hahahahah.
A few bullet points (don't want to elaborate cuz I'd never finish!)
~~exhusbands suck; ~~I'm tired of working full time; ~~A Bloody Mary would be really good right now; ~~terribly envious of the wonderful knitters who can finish a project in 2 days; ~~exhusbands suck (yes I said this but it bears repeating); ~~I have a wonderful life and have been blessed with the most incredible daughters, partner and friends; ~~
Have a great weekend