Betcha can't tell the mood today by the title of this post!! As much as I love seeing family the holidays suck. Being divorced and having kids really takes the suckage to a new level. You gotta remember which parent has the kids on which holiday every year; where and when they're getting picked up/dropped off; the "where are the kids?" every other year by stinky "related-by-marriage" folks who know perfectly well that the kids are with their dad. It's not like this is a new thing either~~it's been going on since 1998 for gawd sakes. Not to mention how fun it is to be with everyone and their kids (who I love dearly) and your kids not being with you. Yepper, just warms the heart. I've stopped going to the family holiday things when I don't have my kids, it's just too painful. Bombay Sapphire is just the trick!!! Thankfully this is my year for Christmas and it's at my house to boot, this I'm excited about. Okay enough of that.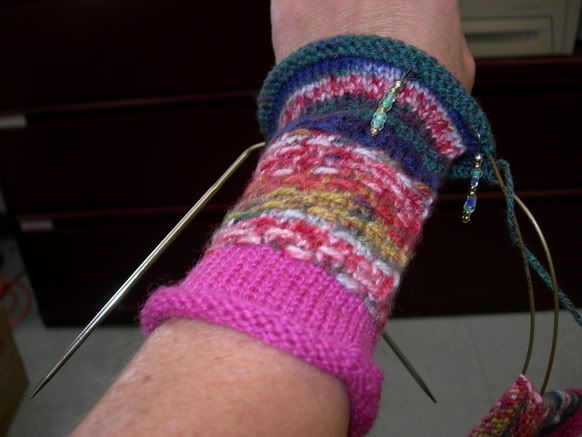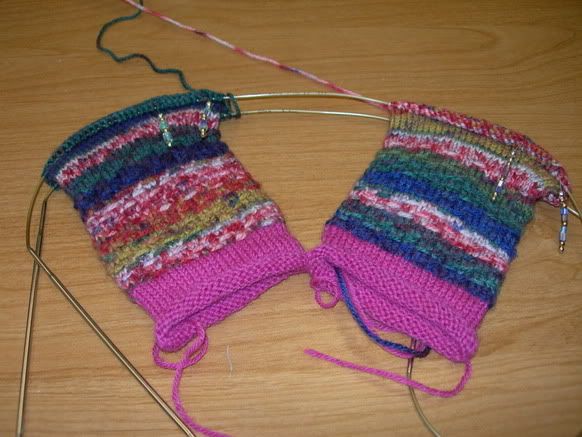 Here are pics of my 2nd pair of gloves for the
Peaceful Palms KAL
. Been trying to come up with a name for them and they are affectionately called "
My Shoulda Been Socks Gloves"
. I'm very pleased with them, and they should be done by the time the cold weather hits sunny So Cal. Soon I'll have to decide on colors for the fingers. So many yarns to choose from. Do I go with my favorite color purple? Do I mix purple and black, which will match the awesome
Los Angeles Kings,

do I make each finger a completely different color?
Suppose my mood at the time will dictate color choice.
As for Sonnet, it's coming along nicely; working on the back now. This is such a great cardigan to knit. It's the first cardigan and first knit in one piece (almost) garment I've knitted. The only sewing/seaming is the sleeves. Quite enjoying the garter stitch, very calming.
One more thing then I shall be quite finished for today (if you're lucky, ha) I joined this wonderful
Sexy Knitters Club
, go check it out. It's gonna be great fun. Well I think that's it for today! Have a wonderful day and a great Thanksgiving.