Oh my!! I arrived home the other day to find this waiting for me from my Karma Swap Pal: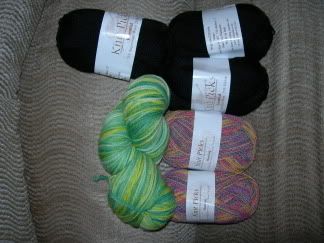 3 skeins of Essential, 2 skeins of Dancing from
Knit Picks
and the green skein is NoNo Kitty superwash!! Floored~~absolutely floored! I must have done something awfully good in a past life to deserve this! I am so enamored with
Knit Picks
sock yarns, this pas perfect. Such a sweetie she is and TaDa, she is none other than
Knittinmom
, Chrissy. Check out her blog....turns out she's a sock knitter too! The green is going for another pair of socks for my darling DD, whose favorite color is GREEN, who loved the yarn and WAS at a point of "Mom, don't knit me anything else!!" (oops I should have rotated the pic first!!) The other skeins will be for very special socks.
While we're on the subject of Karma Swap which was started by
Keohinani
I want to apologize to my partner for getting her package out so late. You don't know who you are yet, but please be patient......it's on its way! And a great big thank you to Keohinani for hosting the swap.
Knitting news! All of my "waiting for" stuff arrived last weekend, so I can now finish
Sonnet
, fix the wacko stuff going on with my
Jaywalkers
, and begin
Tempting II
. A wonderful time was had last Saturday at my lys,
Knit One Purl One
, actually got to go in for a couple hours of knitting with the gals. It's the first time I was able to do that, it was a flooky weekend DD was with her dad, MWBF (most wonderful boyfriend) was working out of town so I allowed myself to slack off around the house and indulge. We stayed til almost 5, one of my dearest friends took a spinning class there, then she and I went to a hockey game, which of course they won, of course because she and I were there and she was wearing her lucky underwear! LOLOL.
Doggy news! Well it seems DD and MWBF found a dog at the shelter Tuesday. He's ready for adoption tomorrow and I'll be there at 8 am right when the shelter opens. Ok for those of you who have read my blog ramblings before know we had to put our Great Dane down a couple months ago, and we still have the 200lb Mastiff. We adopted a Rott/Shepherd mix that didn't work out. One would think we love big dogs. With that being said, tomorrow morning I'm hoping to bring home a Miniature Pinscher!!! Ok picture a Chihuahua (sp?) size Doberman. DD says it will fit in my purse! What a hoot, this is gonna be fun. So keep your fingers crossed and in my next entry I can post pics of "Fang". Yes that's what my two honeys want to name him.
Gonna get to work now. Have the day off tomorrow, Yippee!!! Have a wonderful weekend filled with love and smiles.