The wonderful BF got me a great digital camera for my bday a few months ago. It's so much fun. So here is another pic of the finished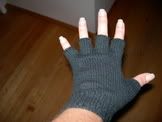 Horray for Me
tipless gloves. I loved working the pattern. The next pair will be multicolor.
These two are of my latest WIP the
Sonnet
cardigan. The first (should be a picture of) the start of the right front and the second (should be a picture of) a close up of the box stitch that (take my word for it) looks awesome!!! This pattern is fantastic and easy to follow. Note to self: practice on the picture taking and resizing and posting!! Let's plan on the pictures later in the week!!! Please be patient, I'm new at this!!! Back to work!!!