Hi ho there! Tried to post Friday but Blogger was having a problem, ahem. Let's (try) and recreate a great entry. Guess what? TODAY IS MY BIRTHDAY!
Back from both vacations and had a WONDERFUL time on both. DD and I camped in Buellton for a bit more than a week thanks to Mom and Dad. They let us use their motorhome. Anyway, we did girl stuff, went on an awesome 5 hour horseback ride, lots of relaxing by the pool time, she even agreed to go to a yarn store with me.
Lynda
had been to the Village Spinning and Weaving store and gave a nice review so I just had to go. Great place. Talked about sock knitting with the woman there; didn't buy anything though, DD started school last week and we had to buy books......Ahem again. Also visited Rasmussens whose yarn and fabrics are upstairs. Love that store. BF and I had a great time at Twin Lakes doing the adult vacation stuff....now let's not let our minds wander the gutter!! Visited his sister in Reno for a day and did lots of relaxing too. Love vacations.
Now I've been back at work for a week and I'm looking forward to time off again, which will be Friday. BF and I are heading for a working weekend around Palm Springs. He'll be working, I'll be pooling, shopping etc.
Weekend past was quite good. Had family & friends over for my bday celebration. A wonderful time was had by all. Got a
Barnes & Noble
gift card and I do believe it will be used for the Mason Dixon book. Any other suggestions?
On the knitting front, finished mom's Cable & Rib socks from
Interweave
(not sure which issue)
Here they are with mom as the model: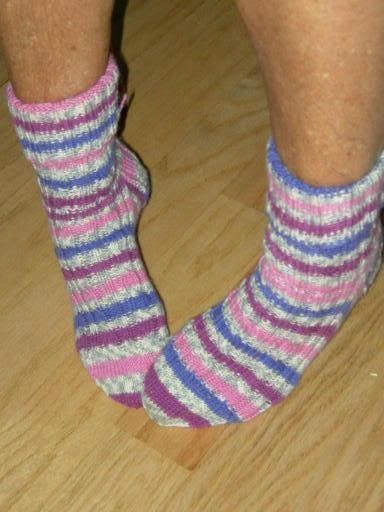 I used Knitpicks Parade for those, a little more than 2 skeins. They were fun to knit. Cast on for another pair of
Slinkies

Uh, the first pair fit DD just fine until I washed them....guess the dryer wasn't such a good idea....at least they fit me. Her 2nd pair are being done in Cascade Fixation I'll post a pic as soon as I get one. My
Crusoes
are running down the stretch, the heel has been turned, gusset picked up, oh yes. Had to take a break on those. The size 0 needles were leaving holes in my finger. That's about it for today folks. Gotta get back to work. Hope you all have a great week.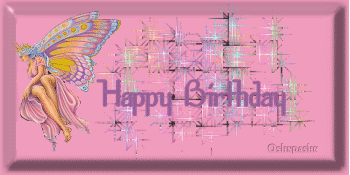 To Me!!!