Happy happy Friday fellow knitters, bloggers and craft junkies! These past couple of weeks have been muy hectic. I came down with the creeping crud a week ago Wednesday and spent 3 days at home. This is 5 days before friends from Colorado Springs are staying with us for a night. Great timing. Last Sunday, (early) Spring cleaning took place, sick cleaning.....you know when the furniture polish, or window cleaner fumes really bother your nose. Hated it! So went back to work Monday, took Tues off, late arrival Weds, worked all day Thurs, and will do so today, unless the DD calls and needs to go home early. She's sick too.
We did have a most marvelous visit with our friends. Since they've left California we see them about once a year usually at their house. Had a little bbq for them, a few of their
other
friends came by. A great time had by all. Even the DD and her boyfriend had fun.
Do you ever feel weird for having fun? I mean when someone else is in the hospital. BF's mom has been in the hospital for a few weeks now; she's in a rehab facility (no not for drugs or alcohol!!! Can't believe how many people have asked that question!) right now waiting to have knee replacement and maybe back surgery. She seems to be responding well to treatments, but it's still a worry which is exacerbated by the fact she lives in another state. She's a strong woman and the prognosis looks good....it's taken a toll on my usually patient BF. Definate change. Back to the first sentence of this paragraph......yeah I feel "not right" sometimes having fun when someone can't. It's kinda like the feeling you get the day after a "wake" and you think to yourself "shit, I laughed way too much". Demons (thanks mom)
Ok....My SWC has taken a few steps backwards! Had to tink about 5 rows, there was a hole in my knitting! A slipped, dropped I don't know what stitch. Apparently this error was committed while KUI. Gotta say most times that's when I do my
best
knitting. So, I'll limit my alcohol comsumption to 2 glasses of wine, or 2 beers, or 2 gin and tonics. There will be major knitting this weekend. DD has football game tonight, a sweet sixteen party tomorrow night, BF is out of town this weekend. The only commitment I have this weekend is a Kings game Sunday afternoon.
Go Kings Go
. Thankfully they won last night. back to knitting......I have finished DD's Slinky socks, and here they are: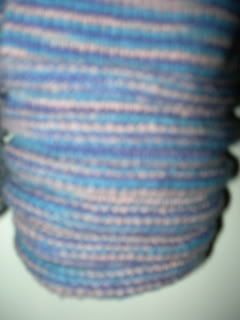 Sorry for the blurry second photo, I was trying to show the "slinky" rings but another perfect example of KUI, or should I say PUI (photographing under the influence---haahaahaa sometimes I just crack myself up) Knit them in Cascade Fixation and they feel cushy, warm and wonderful. She was going to wear them to school today, but the temp here in sunny So Cal will be 85-90 degrees.
Why do we knit? Why do we craft? This has taken much of my thinking time lately. Me? I believe it to be the joy and satisfaction of creating something. Let me reword that: I LOVE MAKING THINGS!! Since I can't paint or sculpt this is my artistic outlet. My passion for knitting and all kinds of crafting started when I was a kid. Not to mention the peace I feel when doing it. What about you? Why do you knit/craft?
Now for your help. I'm having several jones' that are hard to control. Jones #1: I WANT CROCS~~don't care if they're the mega-mart brand. Jones #2: I want to sew jammies. don't know where this came from, but blammo it arrived. Jones #3: Can you say camping Trailer???? This comes over me around this time of year when tent camping is just a bit too chilly. Jones #4: Gotta get more sock yarn. Don't have to explain this one now do I. The problem is I have enough already to make 5 more pairs of socks. OOOHHHH, man, these are all so materialistic. Never realized having a blog would provide such insights, ahem.
Thank you all for indulging me. I'm off to my daily blog read and maybe get some work done. You all a much deserved wonderful weekend. Love ya!!