Here they are!! Very exciting. They're a bit wonky but with blocking they'll be great. I had a great time knitting these. The pattern is very easy to memorize. Thank you most talented
Grumperina
.
>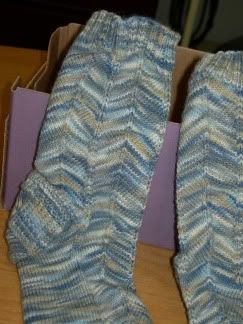 Now let's hope Mom likes them. I think she will. Oh boy, I get to report finished socks to the
Count your Socks
update my sock counter and
Two-Thousand-Socks
and (oh my, brain fart) can't recall the 3rd site,hmmmmm, think, think, think......I got it!!! The
Sock a month knitalong
, damn gotta get those buttons! Helps me remember, ahem. Gotta run.....Have a wonderful weekend.